BIOMECHANICAL HUMAN BODY MODELS (HBM)
WHAT ARE WE DEALING WITH?
We deal with injury prediction using virtual biomechanical models.
Transport
Development of human models, including the "Virthuman" model
Case and parametric studies, injury prediction
Accident reconstruction
Safety of future mobility
Sport
Muscle-skeletal model of the human body
Complex model of the shoulder joint
Detailed hand model
Gait analysis
Healthcare
Interaction of the human body and medical equipment
Prediction of injuries during childbirth, the effect of forceps and vacuum device, manual perineal protection
Lower limb prosthesis optimization
---
EQUIPMENT
Kistler 9286BA portable power boards up to 10kN (600mm x 400mm)
Commercial PC software:

VPS

,

Ansys

(advantages of both software: deformable FEM models, characterization of soft tissue properties, performing appropriate measurements)

AnyBody Modeling System

(advantages: bone shapes based on MRI and CT, real anatomy and physiology of joints, an active model with consideration of muscle attachments and trajectories)
Custom PC software:

Virthuman

(VPS module) - advantages: MBS model with deformable segments, anthropometric and age scaling, simple positioning, fully validated, multipurpose use, injury prediction based on EuroNCAP
The offer of the HBM department
Prediction and analysis of tissue load and injury in impact scenarios and medical applications
Prediction of birth injuries based on virtual models and assessment of the impact of the intervention (obstetrician intervention)
Analysis of postural balance, walking, jumping, etc.
Injury prevention and performance analysis in sport
Calculation of muscle activity in the prescribed movement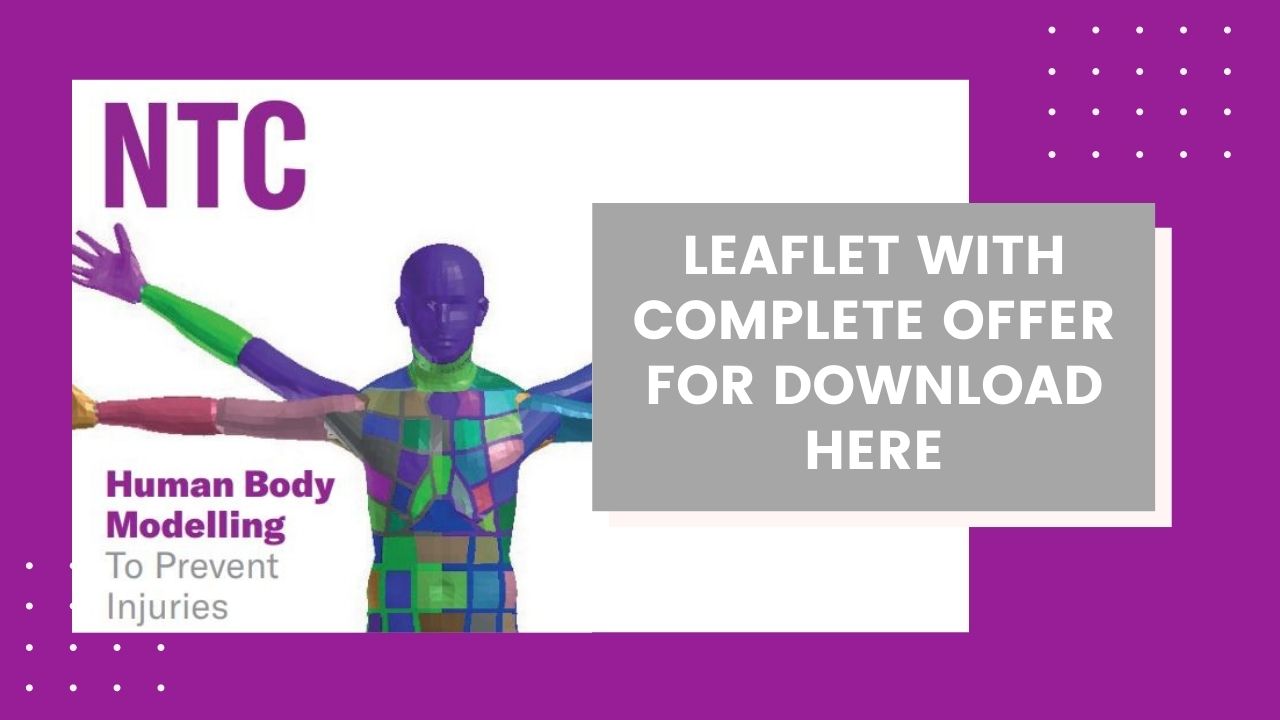 Examples of our services:
Numerical analyzes of the effect of an impact on the human body, including an assessment of the existence of injuries (crash tests, traffic accidents)
Musculoskeletal analysis of human body load
Product optimization from the point of view of stress and safety (design and testing of personal protective equipment)
---
Use:
Automotive industry and transport (crash tests, accident analyzes)
Sport (injury prevention, performance prediction, optimization of protective equipment)
Healthcare (prosthetics, optimization of procedures in medicine)
Current, selected projects - HBM
The main aim of this project is to find new methods of prevention, diagnosis, therapy, and rehabilitation of shoulder complex pathologies.
The main aim of this project is to optimize manual perineal protection (MPP) as a method that decreases injury risk during childbirth.
The project builds up a new international research partnership in the field of Human Cognitive Enhancement (HCE) and it will provide clear and accessible HCE-related analysis, guidelines, and directions for policymakers, stakeholders, HCE engineers and consumers. Its goal is to create a philosophically grounded, open and transparent framework for the description, assessment, and forecast of acceptability of HCE systems in public space and by society, as well as for HCE governance issues.
Virtual models for optimization of medical training, Cross-border cooperation program the Czech Republic - Free State of Bavaria, EUS objective 2014-2020, 1.7.2021 - 31.12.2022, project no. 337
The major goal of the project is to improve a virtual model of the pelvic floor and to develop a motion feedback system. These will then be combined to create a training tool for obstetricians and midwives.